As house prices rocket and children are staying at home longer, these days it makes more sense to dig down into the basement rather than move, allowing extra space for a growing family - from a wet room to a family room, the possibilities are boundless. A decade ago it was principally the mega-rich who were creating what were then known as 'iceberg homes' but now with cost and space at a premium, and the costs involved with re-locating, countless even unassuming terraced properties across the land are setting out on basement extensions. Together with the bonus of an estimated 15-20% being added to the value of a property, why wouldn't you? Here, we feature some of the most popular basement transformations.
One of the most popular choices of conversions is a basement kitchen, as many mid-century properties were built with the then en vogue galley-style. To create a feeling of space and light in your renovation, use bare white walls, or painted brick and light wood or large tiled flooring with a kitchen island. Enhance this with a kitchen-diner atmosphere using a period style sofa or leather wing back chair for chilling out and reading a book.
With a little thoughtful planning you can make the most of the space in your basement conversion, converting it into an all-in-one visitor suite, replete with a counter top kitchen, bedroom and en suite, maybe add a glass-topped painted cable spool or mirrored furniture to create a feeling of width and height in your basement conversion. Consider your lighting options; wall spot lights in combination with task lights can be a great option.
Maybe make the conversion of your basement a consecration to relaxation, with a laid-back area for the whole family, harmonise hardwearing floor tiles with a textured animal-print rug, or add an around-the-wall sofa and wall-mounted TV for a chilled-out feel to the room.
1. Guest Room
Turning your basement conversion into the perfect guest retreat. A sleek kitchen area lining a single wall with comfortable seating opposed, while a cubicle shower, separated by a glass screen creates an open-plan feel. A bed can be hidden away creating a tranquil sleep zone that is as welcoming as it is compact.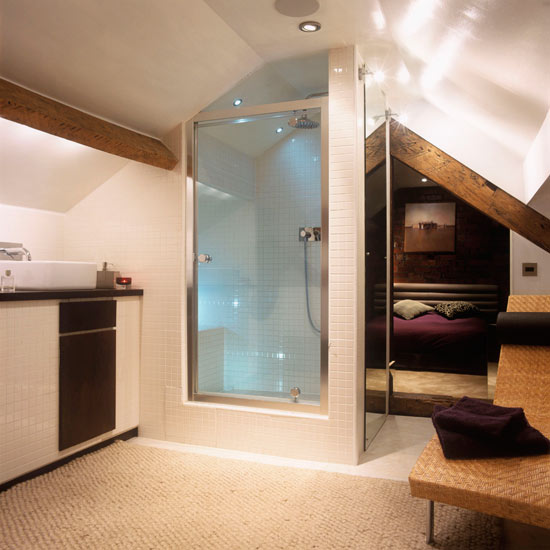 2. Clean-cut Kitchen
The white, clean-cut look of this kitchen allows for maximum light to pour into it. The elliptical glass dining table utilises the space to create two rooms in one. Gloss black units add a modern edge.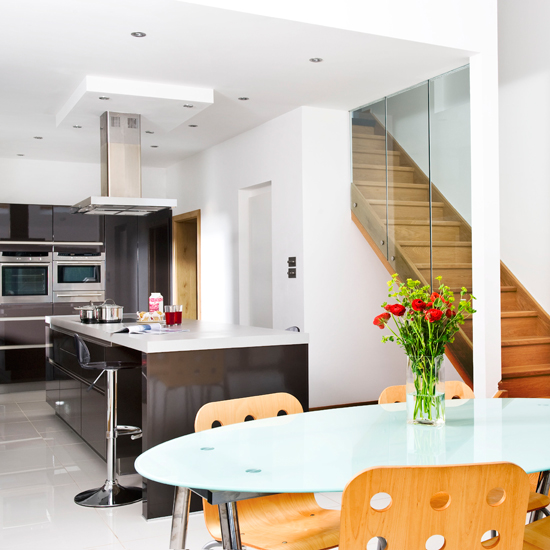 3. Entertainment Area
Design an amazing entertainment area to relax and have fun with your family. Illuminated signs can make a feature of the white walls, while a large, widescreen TV is a counterpoint against bold red paint. Add a full length unit to store games, then plant with plenty of sectional seating, so your family or guests can sit together.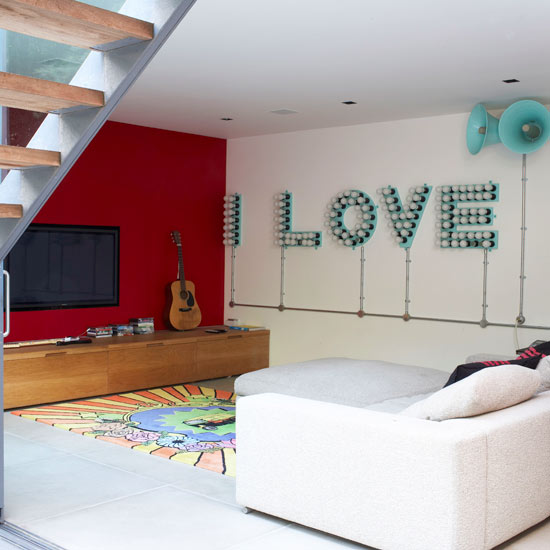 4. Kitchen
With a huge glass frontage at the entrance of this modern kitchen-diner, the room gives a sense of endless flow running out into the garden. It also streams light into this basement conversion, which otherwise could have been difficult to light. Dining room fixtures and fittings that are minimalist in outlook will give the room a sleek modernist impression.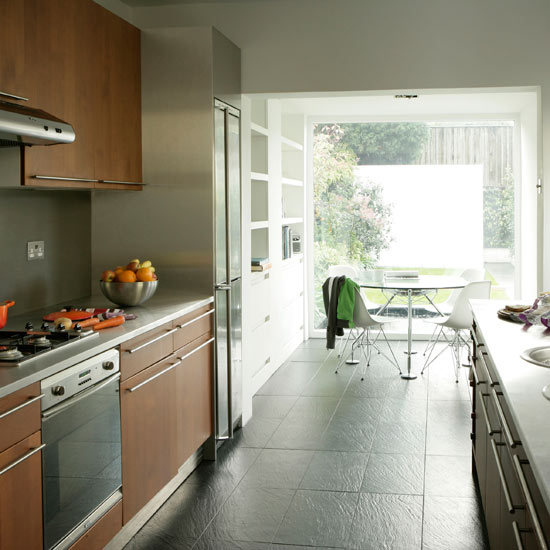 5. Retro
The choice of French windows leading out to a set of steps and the garden enhance this renovation. Cottage dining room furniture and unusual lighting and accessories create a laid back feel while tongue-and-groove panelling add texture to the walls. Rustic stone flooring contrasts with the modern furniture to merge an eclectic whole.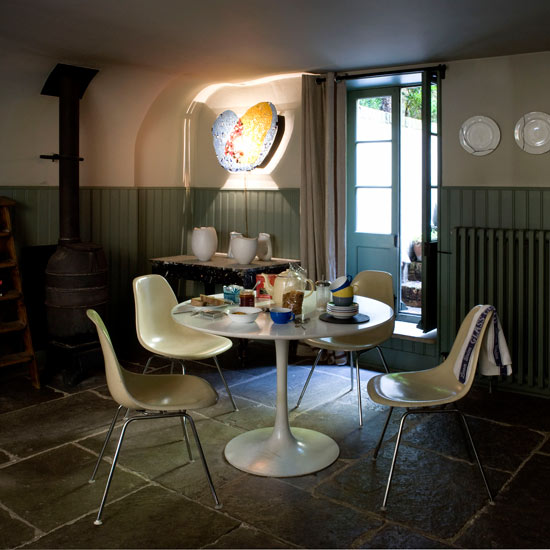 6. Bright and Airy
This bright and airy conversion is made to feel spacious using an open-plan configuration, white walls, light-wood flooring, and furniture and upholstery with neutral keys play their parts. In the kitchen zone, a storage unit keeps disorder to a minimum, while an island unit precincts out the living room.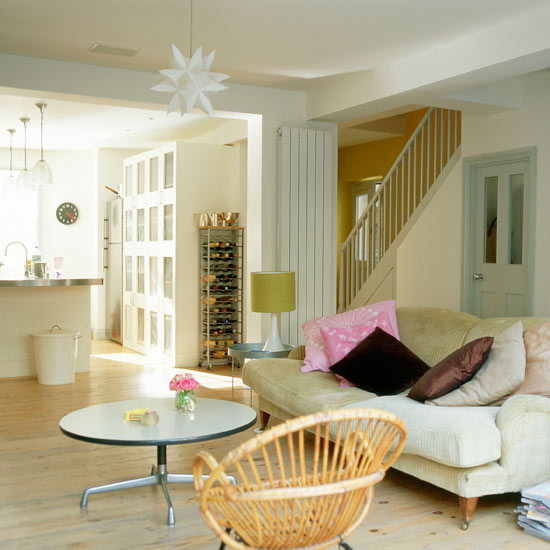 7. Exposed Brick
Here, exposed brick takes elegant centre stage in this transformed basement. Flooring is kept bright and light-coloured and the wood and metal staircase is understated so as not to dominate the space. Sleek modern furniture adds characterisation, and bold furnishings publicise colour in the space.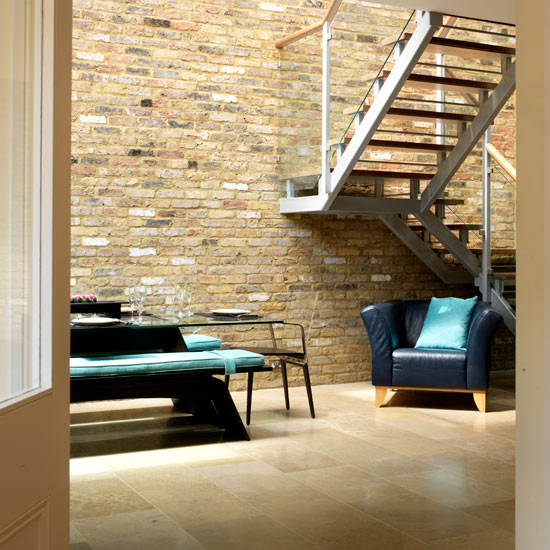 8. Living Room
Steps leading from the garden into this lower ground floor living room draw the eye into the space, enhanced by pale walls and flooring to give light and airy denouement, with neutral soft furnishings complementing the look. A glass-topped coffee table has been used to create the illusion of more space, and complete the aspect with sumptuous cushions for a relaxed, comfortable feel.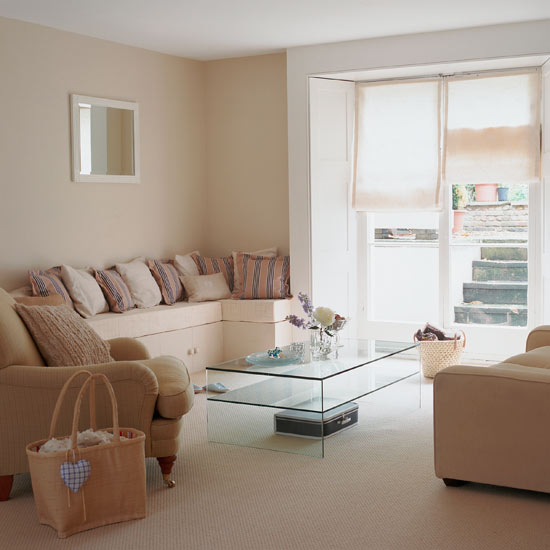 9. Kitchen-diner
Corner-shaped seating helps separate and define the zones of this open-plan basement. White walls and pastel units in the kitchen give the area a sense of space, while continued flooring combines the different zones. A kitchen island is a clever way to create a boundary for different areas while at the same time offers a practical solution for preparing, eating, or even working.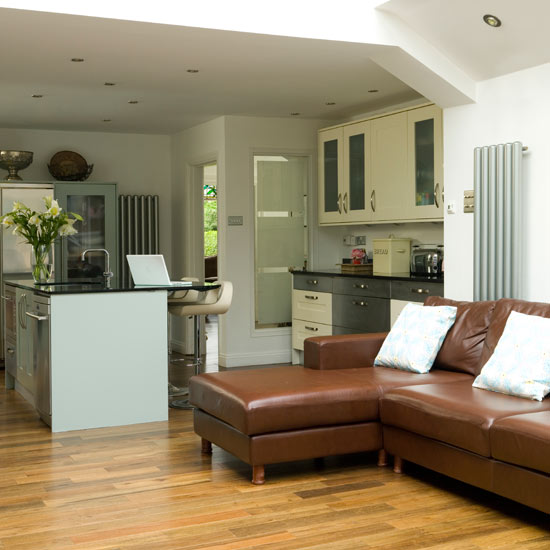 10. Kitchen
Below ground conversions tend not to get a lot of natural light, so if expansion plans were for a practical space such as a kitchen, then you will need lots and lots of task lighting. Go for wall spot lights to brighten up an entire area, and fit lighting inside glass-fronted units. A basement kitchen is perfect for family time, and with the cunning use of stools you create a nifty breakfast bar.